PEN New England and PEN America—Free Speech in Peril
Literature should not be suppressed merely because it offends the moral code of the censor. 
          —Chief Justice William O Douglas 

The selector begins, ideally, with a presumption in favor of liberty of thought; the censor does not. The aim of the selector is to promote reading not to inhibit it; to multiply the points of view which will find expression, not limit them; to be a channel for communication, not a bar against it.
           —Lester Asheim, "Not Censorship but Selection" (Wilson Library Bulletin, 1953)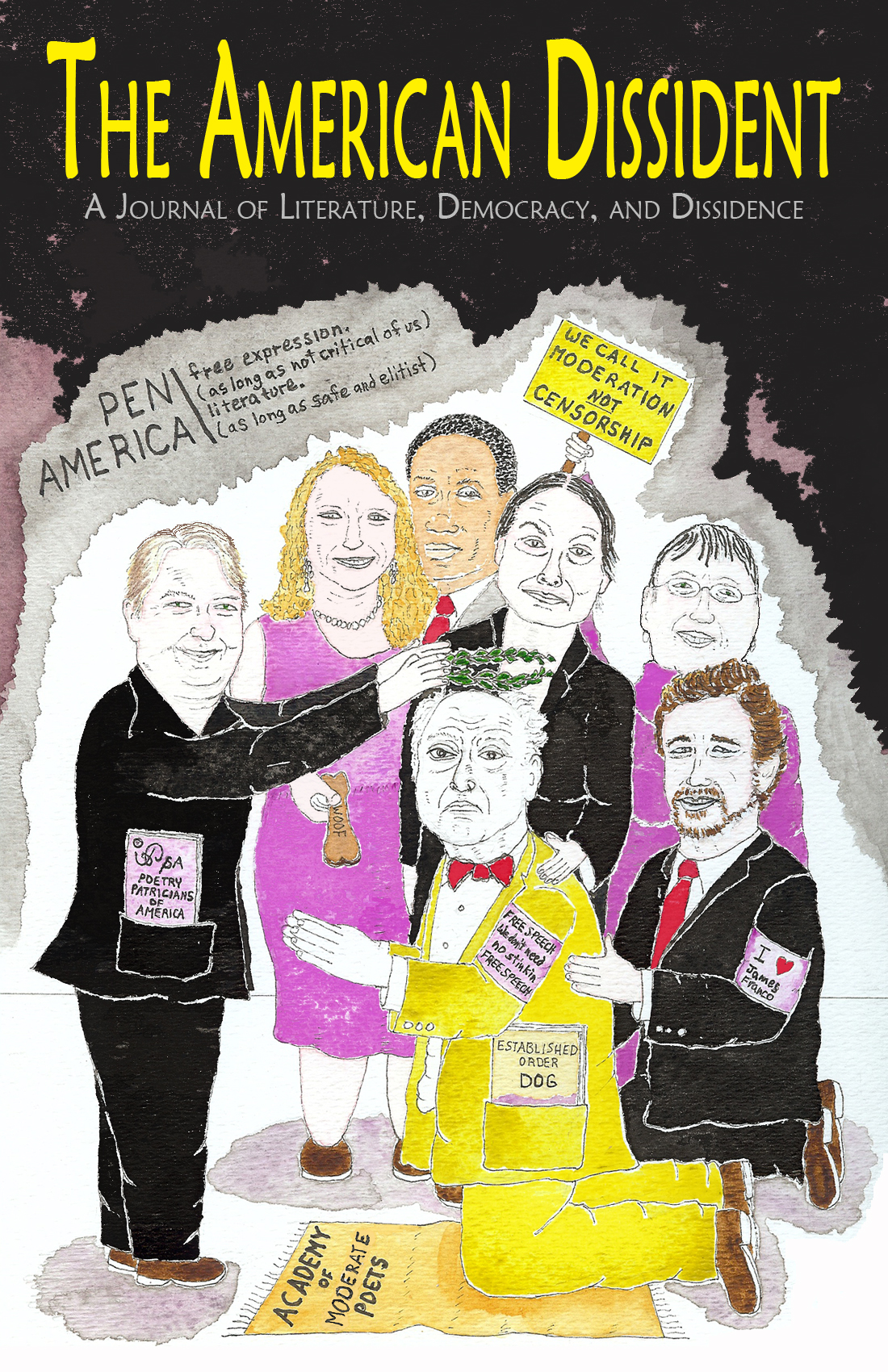 All censorships exist to prevent anyone from challenging current conceptions and existing institutions. All progress is initiated by challenging current conceptions, and executed by supplanting existing institutions. Consequently, the first condition of progress is the removal of all censorships. There is the whole case against censorships in a nutshell. 
           —George Bernard Shaw
WE the undersigned petition PEN American Center in New York to democratize their organization by appointing, as Trustees, not solely writers who are entwined with book companies owned by media monopolies. This includes writers who've dissented against the established U.S. literary mainstream. We ask all writers, from all backgrounds, to sign this Petition, including current PEN members and Trustees, in the interest of realizing the PEN mission, voiced by PEN's Larry Siems, of "bridging intellectual chasms and cultural divides."
******************************************
PEN was created as an organization to protect and defend dissenting, outcast, and marginalized writers. PEN American Center makes this its mission-- except in America itself! In these economic hard times, impoverished writers shut out by the moneyed academies and conglomerates are in worse shape than since the 1930s. Democratizing PEN's board will aid the hope that as a designated charity, PEN's concerns and financial largesse not go to already successful authors like Philip Roth, but to talented writers facing real hardship.
          —Karl "King" Wenclas and signatories, including the editor of The American Dissident (http://penpetition.blogspot.com)
For two lengthy essays I wrote on PEN, incorporating personal experience with PEN, see PEN I and PEN II on Global Free Press. When dealing with PEN elites, how not to feel like a peon, a plebe?
Interestingly, M Mark, founding editor of PEN's magazine, PEN America: A Journal for Writers and Readers, will not even respond let alone publish the harsh criticism. Hypocrisy seems to be a cancer in perhaps many high and mighty defenders of liberty!
Unsurprisingly, thus, PEN New England operates as one of many modern-day LITERARY CENSORING ORGANIZATIONS akin to the Catholic Church of yesteryear which put together the Index Librorum Prohibitorum. Democracy continues its downward spiral thanks in part to the democracy-indifferent, censorship proponent Director Karen Wulf.
It is an easy thing for the "internationally acclaimed writers" favored by PEN, including Soyinka, Gordimer, and Coetzee, to decry the incarceration of writers abroad, but a very difficult one for them to decry the inherent corruption of the diverse academic and literary hands feeding them cash, prizes and accolades here in the USA.
Originally, the editor wrote the following as an open letter to PEN and posted it on The AD blogsite.  It was sent to PEN staff (Michael Roberts, Executive Director; M. Mark, Editor Pen America; Caro Llewellyn, PEN World Voices Festival Director; Stacy Leigh, Readers & Writers and Open Book Director; Anna Kushner, Freedom to Write Coordinator; Sarah Hoffman, Freedom to Write Associate; David Haglund, Managing Editor, PEN America; Alena Graedon, Executive Assistant; Nick Burd, Literary Awards Program Manager; Linda Morgan, Development Director; Larry Siems, Freedom to Write and International Programs Director; Stefanie Simons, Readers & Writers Associate; Jackson Taylor, Prison Writing Program Director; Elizabeth Weinstein, Public Programs Associate; Michael Welch, Planning and Finance Director). 
Not one staff member responded!  Then I wrote Karen Wulf, director of PEN New England, a number of times, regarding obstructions to my freedom of expression in New England.  But Wulf simply chose not to respond.  Because of her silence, I created the watercolor depicting her and friend Helene Atwan, publisher of Beacon Press.  Wulf, by the way has her office at Lesley University, where Joan Houlihan teaches.  It is likely the two are friendly and spoke about me, leading Wulf to shamefully ignore my grievances.  What, one must ask, is a woman like Wulf doing at the helm of a purported free speech and free expression organization like PEN?  Evidently, the latter has become a perverted organization in much the same way as the ACLU.  With that regard, read Wendy Kaminer's excellent book, Worst Instincts. 
Open Letter to PEN
Having just read an article by Chinese dissident Ma Jian, I thought of you and decided to write in the hope that perhaps one of you would actually respond… and not simply in the polite bureaucratic sense, as in an out of office autoreply. [Of course, not one of them would ever respond!]

"There is little need for literary censors these days," noted Ma Jian, regarding China. "The writers have learnt to do a proficient job of censoring themselves." With that regard, how not to think of America and her proficient self-censoring poets and writers? Why did PEN America seem to avoid that egregious reality? By pointing almost always to injustice abroad, it seemed to be acting as a propaganda arm of the U.S. Chamber of Commerce. It possessed a Freedom to Write and International Programs Director, but not a Freedom to Write and National Programs Director.

Last August, I wrote Pen New England, which chose not to respond. In vain, I'd brought to its attention the fact that here in Massachusetts, as a highly critical dissident author and publisher, I had been ostracized and was being punished. The Concord Cultural Council, for example, enacted—because of me—a new provision excluding from public funding any proposal it subjectively deemed to be of a "political nature." The Massachusetts Cultural Council simply refused to respond to my questions. For example, why did it fund Agni, which was published by Boston University, a private institution with over one-billion dollars in its endowment fund, while refusing to accord any monies at all to The American Dissident, the journal I publish?

Also, in America, as I'm sure PEN was aware, writers could indeed be arrested and incarcerated. For example, I was arrested and incarcerated in Concord for a day, yet all I'd done was speak freely at Walden Pond. Surely, other American writers, not of the "internationaly acclaimed" variety, had much more serious tales to divulge. Sadly, Pen of New England didn't seem to give a damn about mine. What about PEN America?

On another—though really always the same—matter, as a rare dissident poet at the Festival International de la Poesie de Trois-Rivieres (Quebec) in 2001, I was highly critical of that festival's management and had not been invited back since. Management oddly, or perhaps not, prohibited debate during the festival, while invited poets, both Canadian and international, lamely acquiesced. In the context of its Pen segment, I was even invited as a known dissident to read a translation of a Kenule Saro-Wiwa poem I'd prepared. Needless to say, I'd end up sending a complaint to Pen Quebec, which simply did not respond. In 2004, I mentioned this to Pen America, which responded with hollow empathy: "In general, we at the PEN America Center have no involvment [sic] with events that take place in Canada. It sounds like your experience has been unfortuanate [sic]."

I'd also asked how I might become a PEN member, so that I could help bring to light the rampant, though often subtle, censorship existent in America, thanks to its army of obsequious writers, academics, and other luminaries. PEN responded thusly: "Regrading [sic] your query about joining PEN, currently membership is by nomination (either internal or external) and is entirely voluntary." Well, that didn't sound very democratic at all.

Being a harsh critic of poets, writers, editors and academics in America, I now found myself unable to find full-time employment as a professor of English. When employed at American colleges and universities, I tended to "go upright and vital, and speak the rude truth in all ways" (Emerson). For that, I now found myself at the end of the line. On another note, the Academy of American Poets, sponsor of National Poetry Month, censored and banned me from participating in its forums a year and a half ago. With that regard, I'd contacted each of its tenured-professor chancellors, each of whom evidently favored censorship. Inside Higher Ed.com has also been censoring my comments.

Finally, Ma Jian wrote: "A savvy young Chinese writer who spoke in London recently was asked about his views on the Tiananmen massacre. He said with a self-satisfied smirk that he was asleep in bed when it took place, and that he never joined the marches because he found them exhausting. There is a word in Chinese that describes this attitude: xiaosa. It means imperturbable, detached, nonchalant. This carefree denial of the meaningful role of an artist in society is a blight that inflicts great numbers of China's unofficial cultural elite."
Again, how not to think of America and her OFFICIAL cultural elite (e.g., multimillionaire Toni Morrison), funded by the National Endowment for the Arts and promoted by, amongst others, the Library of Congress and Academy of American Poets?  Hopefully, Ma Jian would become aware of the hypocrisy here in America before some American university ended up purchasing his soul.  American universities were quite adept at the art of soul purchasing. Think of Beatniks Ginsberg and Snyder, as well as dissident foreigners Yevtushenko, Wole Soyinka, and Dennis Brutis. As for Nikki Giovanni, another PEN-favored writer, she made a blatantly racist statement, though of PC variety, that "Black students will inevitably run into some white classmates who are troubling because they often say stupid things, ask stupid questions and expect an answer." I challenged her on it. She remained silent.  In her twisted, tenured mind, racism is okay as long as directed against whites.